Landward Friday 7pm
This Friday the 4th December one of our good customers Grewar Farming will be featured on the Landward programme on BBC1.  Peter Grewar and his cousin Euan first had the idea to sell their potatoes in our vending machines after seeing the egg machine we had installed on one of our own farms back in early 2014.  With potato prices being low they saw this as a great way of selling their product direct to the customer and maximising profits.
After a successful months trial with a small machine at their Ardler premises in Perthshire the Grewars ordered their first three machines.  What happened next was phenomenal.  Being the forward thinking young farmers they are, they contacted the local shopping centre and promoted their idea on the basis there was no way of buying good healthy fresh food in the centre.  The promotions people loved the idea and when the local press picked up on this a number of press and radio interviews followed. With these first machines selling only tatties and eggs they were an instant hit.
With the success of the first machines the Grewar family have now added a further two cooled machines to their fleet. Grewar Farm Vending was born and they now have machines in 6 sites spread over the local area.  These sites are two shopping centres, two of their own farms, a children's outdoor play centre and an upmarket hotel.
In response to customer demand they are now growing a range of vegetables themselves for stocking the machines.  They had soft fruit in the summer and will continue the trend  of supplying home grown seasonal produce.
Local reporter Martel Maxwell is to be a guest reporter on the BBC Landward programme. When reporting on the global market for Scottish potatoes it was only right she covered Grewar Farm Vending and their forward thinking approach to selling direct to the public.
We look forward to her report.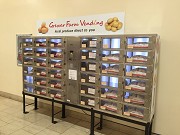 located Overgate Shopping centre Dundee
Well done again the Grewar family